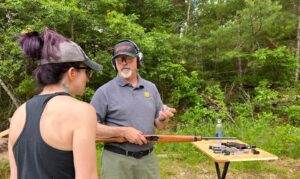 In Massachusetts, you are required to take an approved firearms safety course prior to submitting your application for a Firearms Identification Card (FID) or License to Carry (LTC) in the Commonwealth.
We teach either the LTC-002 NRA Basic Pistol or LTC-019 Liberal Gun Club Firearms Familiarization curriculum. Successful completion of either course qualifies you to apply.
We provide a safe, comfortable, and entertaining experience using training rooted in adult learning principles. This includes:
all course materials, (Textbook and documents for LTC-002) or (Digital media and documents for LTC-019), and
get-up-and-move exercises and stories to make your experience memorable, relevant, and fun, and
personalized live fire instruction with a variety of different pistols.
Just bring a pencil, a smile, and some closed toed shoes.
We teach well beyond the prerequisites established by the Commonwealth of Massachusetts. With small classes and live-fire instruction, you will see that our class is so much more engaging than those large group cattle calls. You have a choice. Choose RLFT.
Starting at $150 weekday/ $175 weekend per person
Is your schedule too packed for a group class? Private classes offered for an additional charge. Classwork and range time booked to accommodate your schedule.